I see it too many times. And, perhaps you have too. You know someone too well for him or her to be doing video this way. They have a certain personality in person – but when they're in front of the camera for online video – it's totally different. It's like a bait and switch leaving you scratching your head and saying, "Huh?"
You know the power of online video. I don't have to sell you on that. It helps conversion everywhere online from sales pages to landing pages to delivering content and information to your prospects and clients. So, why do so many people not get it? Authentic online video is all about being you – not someone else.
You have to inject your personality and be who you are in "real life" when you step in front of the camera – else the message and connection with your viewers will be incongruent and they'll see right through you. Viewers want to connect with you – the real you – not someone you're trying to be.
In this article I share some of the tips and strategies to inject personality into your videos so you will come across as "you" – allowing you to be more authentic and connect with your viewers to massively help conversion with your online videos.
Audience
It depends on your viewers. What type of videos would they expect from you? If you're prospects and clients are the serious types (a.k.a. button shirt / tie / suit executives) than injecting your personality of you hanging in your pajamas at the home office just won't cut it. Perhaps focus more on a business casual look and focus more on the "business" personality to make that connection. On the contrary, if you're audience is the stay-at-home-mom market – you can totally do that and make a massive connection with your viewers. It all depends on your audience.
Brand
What do people think of when they think of you and your company? What words come to mind when they think of your brand? You want to ensure your videos are consistent with that theme and your personality will match. Part of my brand (if you haven't guessed it already) is skiing. Can you tell that I love it? It's part of who I am and a huge part of my personality. So, I showcase that in not only my message and my marketing – but directly as part of my videos. See below as a quick example: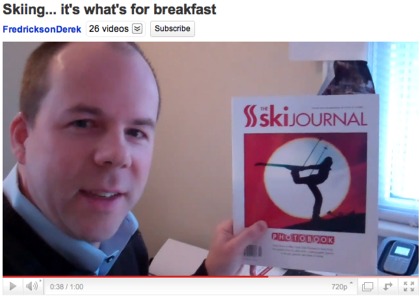 Silly or Serious?
Which are you? Both? I'm a little bit of both so some of my videos are serious – about a topic I love like Internet Marketing – or silly – like the videos I shoot with my kids about skiing and having a great time. I often times see videos that look too "polished" or "scripted." Don't get me wrong – I love the idea of a well looking and well done video – but you can still inject your personality and be yourself so people can see that part of you and not feel like they're watching something that really doesn't represent you.
Expression
Videos are all about expressing yourself. Yes, you can express yourself in social media and emails and articles – but video will by far "expose" you to your audience like no other format. So, as a result you need to feel the capacity and confidence to fully express yourself and be who you are in your videos. If you make a mistake, it's ok. It's part of life and part of who we are.
At the end of the day that's what your viewers want – you. So, don't be stingy and not be who you are AND express who you are in your videos. Once you truly be yourself in front of the camera as you are in real life with your friends and the people who know you – you'll find a stronger bond and connection with your network. This is what will help catapult you to bigger sales and bigger conversion with your online marketing.
Until Next Time… Learn It, Love It, Live It!
Your Assignment:
If you're doing video in your online marketing (and if you're not – you should be) how can you be more YOU in the videos? Where is your personality hiding when you step in front of the camera? Don't be afraid to step out there and really be who you are – your viewers will connect with you even more. As an experiment you can try shooting some "personality" style videos – but perhaps share them with close friends and family first to get feedback – before you share it with your network online. Interested in finding out more about authentic video and other authentic Internet marketing strategies to help grow your online business? The Authentic List Building Coaching program can show you exactly how you can authentically add up to 1,000 new qualified prospects to your business each month. People who really "get" your message and are eager and ready to become your client or buy your products. And, you could do this authentically, quickly and consistently, without being spammy or icky, but just by being you. How would that make a difference in your life? I created this one-of-a-kind program to personally walk you through the same secrets we used (and continue to use daily) to add over 1,000 highly targeted and qualified leads to our list each month for the last 12 months. To see the presentation I created for you about authentic list building principles [IMPORTANT VIDEO], go
here
.
**********************
Want to use this article on your website or your own ezine? No problem! But here is what you MUST include:
Derek Fredrickson, Authentic Internet Marketing Specialist, is founder of the Authentic Internet Marketing System, the proven step-by-step program that shows you exactly how to authentically market your business online, in record time…guaranteed. To get your F.R.E.E. videos and receive his authentic internet marketing articles on attracting more leads and converting more sales online to multiply your current revenues, visit 
www.derekfredrickson.com
.